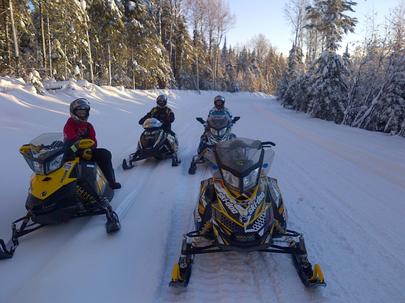 Get your trail pass here!
The Newark E-Z Riders have 9 miles of trails in Newark and Westmore nestled between Burke and Brighton on Corridor VT RT 114. We have been in existence since 1972 and the club is a Non-Profit Corporation made up of volunteers. The Officers and Directors as well as many members put in countless hours keeping the club running smoothly and our trails opened.
The Brighton Snowmobile Club (a.k.a. Island Pond) grooms our trails an average of three times a week. The Burke Driftskippers oversees and grooms the south end of Corridor 114 (approximately 1 mile). We always need help clearing brush, especially in the late fall. If you are interested in helping out with trail work email our Trail Coordinator Mark Ellingwood at maellingwood@gmail.com or feel free to call 802-467-3436. Many hands make little work. No experience necessary!
Club Phone: (802) 467-3436
Club Address: 82 Black Fly Blvd Newark, VT 05871
Club Contact:
Rena Ellingwood
(802) 467-3436