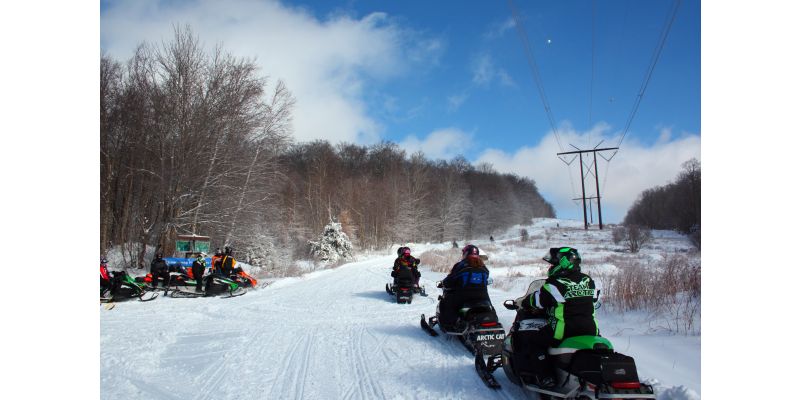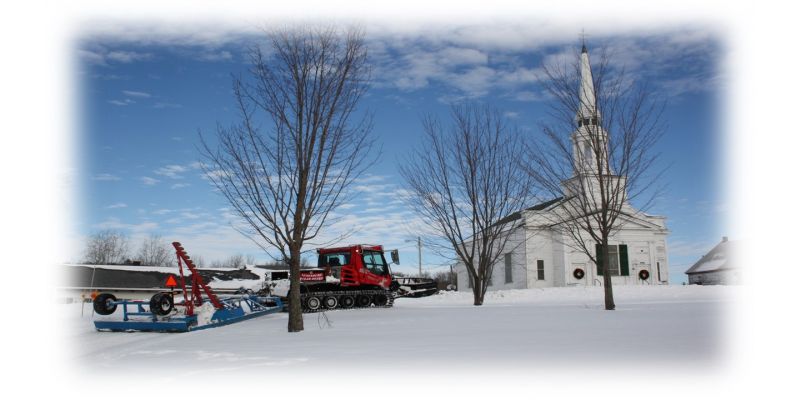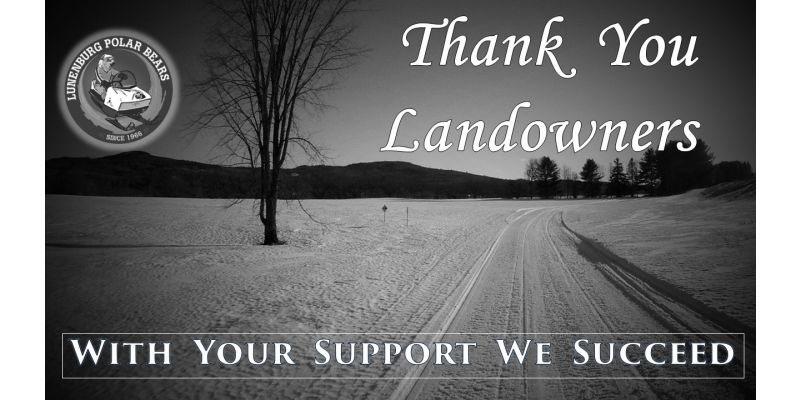 Welcome to Polar Bear Country! It's Our 2023-24 Season!
Ride our exceptional trails in Southern Essex County, Vermont. Experience 75 miles of sweeping views, wooded canopies, thrilling hills and open fields. We offer access to unique riding destinations, terrain and scenery. Purchase you VAST TMA or Club-Only Membership today!
1. Registration is required.
This can be from any State.
2. Insurance is required.
At minimum, must have a liability insurance policy, or bond in the amounts of at least $25,000 for one person and $50,000 for two or more persons killed or injured, and $10,000 for damages to property in any one accident.
3. Safety training is required.
Applies to operators above the age of 12 born after July 1, 1983. Must be a certified course. To complete the required training see VAST Snowmobile Safety Course.
4. A trail pass (TMA) is required for each snowmobile.
During the process, join the [Lunenburg Polar Bears] and upload a copy of the registration. Click VAST Early Bird TMA to take advantage of reduced pricing until December 15th. If you purchase two TMAs from the same residence, additional same-residence TMAs qualify for the reduced Family rate.
Additional Considerations for Your Purchase:
*You can ride in-season as announced and where permissible immediately after purchase of your TMA. An electronic copy is proof of purchase. Decals will be mailed.
*If prompted for a VAST ID # during the online TMA process, this is just a unique number assigned to returning snowmobilers. For convenience, it auto-fills online information for you.
*The person that signs the TMA liability waiver is responsible for the proper operation of the snowmobile regardless of who is operating.
*Want to try Vermont snowmobiling for a few days? You need the the VAST 3-Day Pass! All previous Vermont requirements still apply. No decals are issued, electronic copy only.
*By joining our club you agree to abide by our Code of Conduct.
Anyone Can Join Our Club!
*Anyone can join the Polar Bears for $30 (not for snowmobiling) and select VAST Club-Only Membership. Volunteer at Club events. Support the club. Share your talents at trail projects. Stay in touch. Browse our adventures, pics and movies on Facebook. What do we do? VAST Volunteers at Work
Our values are shared in accordance with a Code of Conduct that applies to every member:
As a member of the Lunenburg Polar Bears Snowmobile Club, I hereby:
Acknowledge Vermont Statutes and local government ordinances pertaining to snowmobiling; Embrace a culture of sportsmanship, cooperation and safety for myself and others while snowmobiling or participating in related activities. I recognize my actions, whether past or present can influence the opinions of others; Respect and support the value of Landowner relationships; Refrain from purposeful activities or behaviors, whether by my direct action, inaction or distribution of electronic media that can negatively impact the well-being of the Lunenburg Polar Bears Snowmobile Club Inc., its affiliations and peer organizations, or the Statewide Snowmobile Trail System; Understand that incidents and/or trends that are inconsistent with the Code of Conduct can result in immediate suspension by the Club President, including the issuance of conditions or limitations not limited to representation, activity participation and use of property including the trail system the Club maintains.
Club Phone: (973) 897-4680
Club Address: P.O. Box 164 Lunenburg, VT 05906
Club Contact:
Mike Mutascio
(973) 897-4680