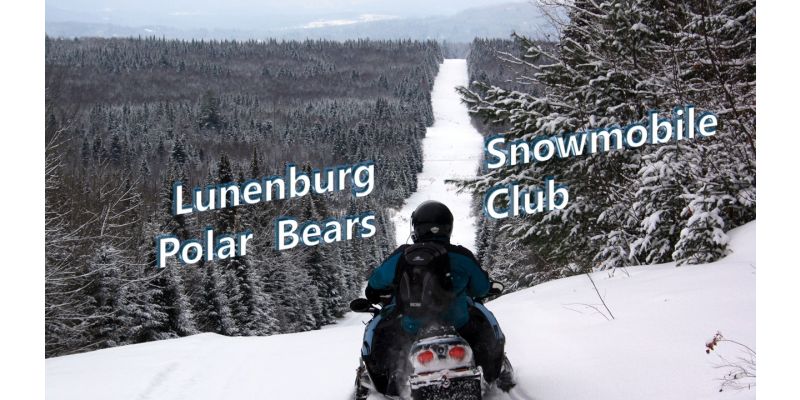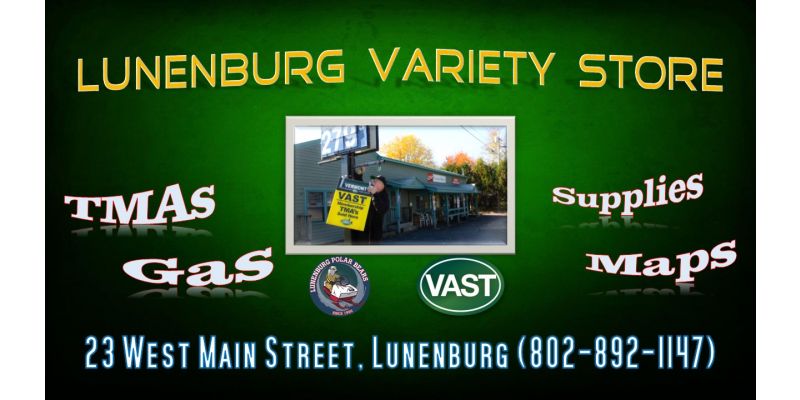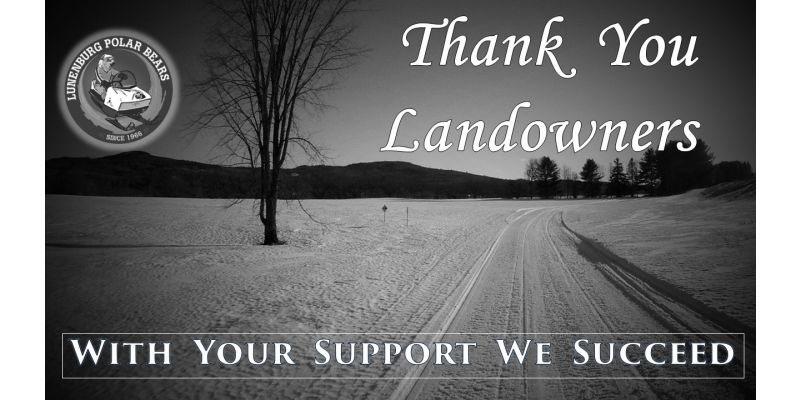 Welcome to Polar Bear Country!
The Lunenburg Polar Bears Snowmobile Club maintains an exceptional trail system in Vermont's Northeast Kingdom. Your ride through southern Essex County includes sweeping views, wooded canopies, thrilling hills and open fields. Enjoy our 75 miles of amazing trails that include access to unique riding experiences, scenery and comradery. Elevations preserve snow amongst stunning scenic backdrops like Mt Tug, the Presidential & Killkenny Range and East Mountain. Our grooming leads the way to winter fun!
Members have been preparing all trails for the 2018-19 season and we are ready! Local services, TMAs and maps are available at the Lunenburg Variety Store at the Town Common VAST 102F2 and TJs Truck Stop & Restaurant, Bridge Street Lancaster NH, just past EX65.

Make Tracks With Us!
It's this easy!
Your snowmobile must be registered in any State.
Vermont has snowmobile insurance requirements Vermont Requirements
There is a Safety Training standard for Vermont. If you reached the age 12 and were born after July 1, 1983 you need snowmobile safety training (more info (Vermont Online Safety Training)
Purchase your TMA (trail pass) from Lunenburg Variety Store on West Main Street, Lunenburg (802-892-1147) or TJs Truck Stop & Restaurant on Bridge Street, Lancaster NH (603-788-4600). Your purchase includes the TMA and decal, plus it connects you with our club.
*TMA types include:
Regular Season
3-Day Pass

*Antique TMAs are available from the VAST office.
*For questions about the free Volunteer TMA, contact the Club.
*TMAs can be purchase online (click here to purchase Online TMA) but will include different club membership dues set by VAST.
*If you have any questions or comments pertaining to joining the club, just contact us.
*ANYONE CAN JOIN OUR CLUB! Just print out the "Member-Only Application' via the link provided.
Be Part of the Fun!
Consider volunteering at our annual Hot Dish Buffet, club meetings, trail projects or community events. Share your talents surrounded by a cadre of dedicated membership. Stay in touch with our active Facebook page. Show your pride with clothing and accessories from our online Bearwear Store. Check out the Lunenburg Polar Bears YouTube Channel. We encourage anyone to join our club, even if you acquired a TMA through a VAST club elsewhere.

Club Phone: (973) 897-4680
Club Address: P.O. Box 164 Lunenburg, VT 05906
Club Contact:
Mike Mutascio
(973) 897-4680