Lunenburg Polar Bears Ride To The Roost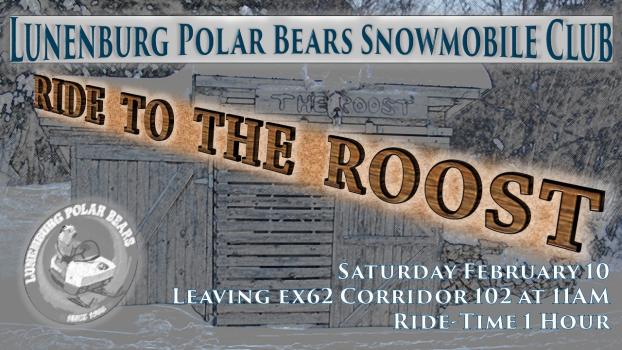 This is the Lunenburg Polar Bears Snowmobile Club ride to the fantastic 'Cookout At The Roost' hosted by the CTVSR Club and the Godbouts, owners of The Roost on Corridor 1. All properly-vetted snowmobilers are welcome to join us.
Riders will assemble at EX62 on Corridor 102 in Lunenburg and we will depart at 11am. The convoy of sleds will sample LPB Corridor 1 and wind into scenic East Haven, arriving at The Roost.
Any changes to this event will be posted on Polar Bears Facebook and the VAST Club Calendar. For info contact the Lunenburg Polar Bears 973-897-4680 or lunenburgpolarbears@gmail. com
For info regarding the CTVSR Cookout at The Roost event, check out the VAST Event Calendar CTVSR Cookout at the Roost
Date: Saturday Feb 10, 2018
Time: 11:00am - 12:00pm
Contact: Mike Mutascio
Phone: 973-897-4680
Location: Corridor 102 & EX62 Lunenburg
We would be delighted to add your club event, dealership event or any other fun time related to snowmobiling in Vermont to our site.
If you have an event you would like to add to the VAST Web site calendar, please
click here
.