BRIGHTON SNOWMOBILE CLUB SNOWMOBILE RAFFLE/BBQ RIDE-IN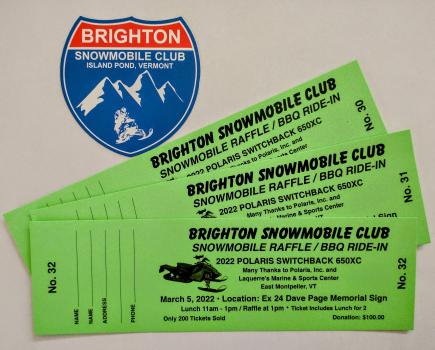 Save the date Saturday, MARCH 5th 2022 !
Brighton Snowmobile Club will be holding their annual BSC Snowmobile Raffle/BBQ Ride-In on March 5th, 2022. Location of BBQ is at EX 24 Dave Page Memorial Sign. If you're joining by vehicle it is on the Henshaw Rd.
We are excited to be raffling a 2022 POLARIS SWITCHBACK 650XC! Beautiful machine. Many thanks to Polaris, Inc. and Laquerre's Marine & Sports Center in East Montpelier, VT.
Ticket donation is $100 and that includes Lunch for two. Only 200 tickets sold. Don't wait, they sell out quickly.
Date: Saturday Mar 05, 2022
Time: 11:00am - 3:00pm
Contact: Sue Purdell
Location: EX 24 Dave Page Memorial Sign
Address: Trail 114/Henshaw Rd.
We would be delighted to add your club event, dealership event or any other fun time related to snowmobiling in Vermont to our site.
If you have an event you would like to add to the VAST Web site calendar, please
click here
.