Online pricing includes $35 club dues and online fees for full season. $20 club dues are included for 3-Day. You may get better pricing by purchasing directly through your club. Club contact info can be found HERE
Please have your snowmobile registration info ready to enter. Not registered yet? Register your snowmobile with the state of Vermont HERE
NEW/USED SLED REGISTERED WITH DMV THIS YEAR? Please use the New Member form.
NOTE! YOU CAN PURCHASE NOW, BUT STICKERS WILL BE MAILED IN MID-NOVEMBER!
CLICK ON THE TMA TYPE YOU WANT TO BUY
RETURNING MEMBER
Full Season
Early Bird

$140 In-state Registration ($124 Family)
$170 Out-of-state Registration ($147 Family)
(Family TMA pricing available on this form after your first two regular price TMAs)
NEW MEMBER
Full Season
Regular Season
$140 In-state Registration
$170 Out-of-state Registration
(Use "Returning Member" link above for your third, fourth, etc TMAs to access discount Family Pricing)
3-DAY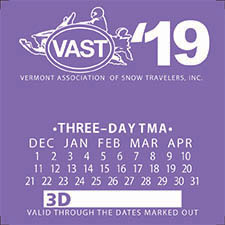 $75