VAST election season is here!
The following candidates would like to earn your vote. Club delegates will vote on the 2017/18 officers at the VAST Annual Meeting on September 9.
PRESIDENT
It's hard to believe it has been a year already. It seems like only yesterday that I was writing my nomination message for last year's elections. A lot has gone on during this past year at VAST and with myself. At VAST we have been extremely busy with committees, subcommittees and regularly scheduled meetings, just to maintain normal business. Just when you think you are all done and can slow down to take a breather, another topic comes up that needs to be dealt with.

The LVRT is progressing nicely and a new VAST trail map with current changes is in the works for this year. Membership is up this season over last year and the new online TMA program is working well. These are just a few of the things that went on this past year. That said, I have enjoyed this whirlwind ride that never seems to end.

We still have new business on the horizon that we are preparing to attend to and some old business to finish and put to bed. I must admit that I enjoy what I do in my position as your president of VAST and am seeking re-election once again this year.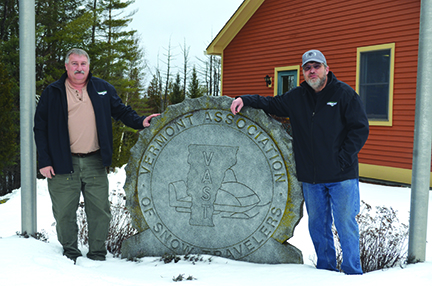 I hope to see you all at Annual Meeting, hosted by the clubs of Lamoille county. This year marks another milestone being the 50th year since VAST's inception. I hope you all take the time to join us for the celebration.
– Tim Mills
VICE PRESIDENT
Sept. 9 is the 50th Annual Meeting of VAST, where the membership gathers to recognize special accomplishments, vote on the proposed budget for the coming year and elect new officers for the association. It has been my honor and pleasure to serve as vice president this past year, working alongside President Tim Mills, Executive Director Cindy Locke, the VAST staff and the board of directors.

I had the opportunity to ride in 11 of Vermont's 14 counties this past season. Some I hadn't ridden in years and others were totally new territory, like Grand Isle, tucked away on the shores of northern Lake Champlain. The terrain and the scenery of the trails are so diverse, as are the people I get to work with as an officer of this association.

It would be my privilege to serve another year as your vice president. I look forward to seeing some of you at the 50th Annual Meeting. It will be my eleventh meeting, but I'm going to be around for a while to come. Hope to see you there or we may meet on the trails this winter. Enjoy!
– Jeff Fay
TREASURER
I am seeking the office of treasurer of VAST. I was born and raised in the Northeast Kingdom and have a strong love for snowmobiling. As a child, my grandfather who was heavily involved in snowmobiling and even has a trail in Norton named after him made sure that I grew up in the sport. I started on a Polaris Indy and now I am carrying on the tradition by having both my children ride double with my husband and I. You may have seen my children in some of the last few Snowmobile Vermont magazine editions.
One year ago I joined the Northeast Kingdom Snow Blasters and currently serve as the club treasurer and TMA coordinator. My husband currently serves as President of the Drift Duster Snowmobile Club and VP of Northeast Kingdom Snow Blasters.
It has been a pleasure entering back into the snowmobile community and I have enjoyed working with VAST staff while working on local issues and I believe that I would make a great VAST treasurer due to my ability to work well with others, ask questions when needed and challenge items that may be in the best interest of our membership.
It would be a privilege to serve as your treasurer. Thank you for your support.
– Sonia Koehler
SECRETARY
I'm seeking the office of secretary of VAST for another year. Two years ago at the VAST Annual Meeting, I agreed to seek the position of secretary for one year. It's been an enjoyable time being part of the VAST board the last two years. I believe my experience as past director, vice president and president has been helpful in moving VAST forward.
As a member of VAST since 1968, it's important as we move forward that we not forget our past.
I look forward to your vote and serving as secretary for another year.
– Jim Hill