Ludlow Side Hill Cronchers Golf Tournament "Fun"Raiser June 25 2021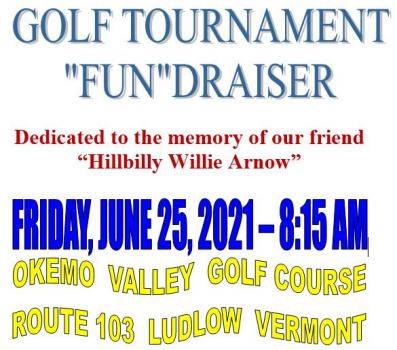 The Ludlow Golf Tournament is back! This time in Ludlow and in honor the memory of our friend, "Hillbillie Willie Arnow". Come join us! Registration required. Go to https://www.ludlowsidehillcronchers.com/golf-tournament for more details and for registration info. Proceeds to benefit trails in Ludlow, Vermont.
Date: Friday Jun 25, 2021
Time: 8:15am
Contact: Kibby Champlin
Phone: 860-884-7532
Location: Okemo Valley Golf Course
Address: 89 Fox Ln, Ludlow, VT 05149
Fees: $100 per player
We would be delighted to add your club event, dealership event or any other fun time related to snowmobiling in Vermont to our site.
If you have an event you would like to add to the VAST Web site calendar, please
click here
.