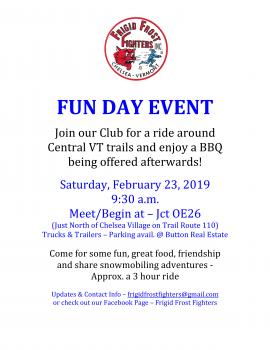 We would like to offer you and your guest(s), an invitation to our first Fun Day Event. Saturday, February 23, 2019 we are planning a snowmobile ride on our trails and other Club's, located here in Central VT. After our ride, we will end at our Club's V.P.'s residence to enjoy a meal of hamburgers, hot dogs, and potluck dishes! We don't ask that your RSVP, but would appreciate knowing how many might be attending. Feel free to email us at frigidfrostfighters@gmail.com or to message us thru our Facebook page. Be on the lookout on our FB Page for any pertinent information or updates regarding our Fun Day Event!
Date: Saturday Feb 23, 2019
Time: 9:30am
Contact: Mark Richardson
Phone: 802-685-3885
Location: Jct OE 26 (Trail Route 110)
Fees: 0
We would be delighted to add your club event, dealership event or any other fun time related to snowmobiling in Vermont to our site.
If you have an event you would like to add to the VAST Web site calendar, please
click here
.