Chittenden Dammers Dam Good Time Fundraiser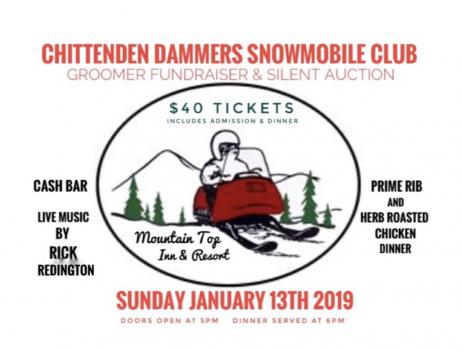 You're all invited to the Chittenden Dammers first annual "Dam Good Time" January 13, 2019. Doors open at 5:00 for cocktails and silent auction with dinner at 6:00. This gala will be a ride in ( or drive in)event held at the Mountain Top Inn Party Barn. It will feature a Prime Rib buffet with a chicken alternative, dinner includes salad veg & desert ,a cash bar will be available along with Rick Redington entertaining. The Inn has graciously offered to work with the Chittenden Dammers on this event to help support the local community of snowmobilers.
Date: Sunday Jan 13, 2019
Time: 5 pm
Contact: Charlie Robbins
Phone: 802-353-0789
Location: Mountain Top Inn
Address: 195 Mountain Top Rd, Chittenden, VT 05737
Fees: $40 per person
We would be delighted to add your club event, dealership event or any other fun time related to snowmobiling in Vermont to our site.
If you have an event you would like to add to the VAST Web site calendar, please
click here
.